Sissi Fabulous Food is a boutique catering company, founded in 2003 by Sissi Schaad-Jackson, who has a flair for a beautiful presentation and a reputation for faultless service, developed while catering high society events over many years in many countries.
The company is a true family business with Gregory, Sissi's son, running the company as Operations Director, and Victoria, Sissi's daughter, organising our events as Senior Party Planner.
Story of Sissi
Sissi grew up on a large working farm in Austria, just outside Vienna. It was here where she experienced the meticulous organisation that went into planning elegant dinners, hosted by her movie star mother and her industrialist father for Europe's high society of the 50s & 60s.
Sissi went on to live in Switzerland, USA, South America, & finally settling in the UK. In each of these locations she honed her flair for beautiful table settings and delicious food by hosting parties.
Her skill & experience lies in organising and hosting but her passion always lay in baking. Entirely self taught, she started the business by baking Austrian desserts for other mothers at the Lycée Français in London (she was amicably nicknamed "Strudel Sissi", for her wonderful apple strudels). This developed into cooking small dinners for friends of friends and eventually cooking for HRH the Prince of Wales at the Duchy of Cornwall offices. This is how our Boutique Catering Company was born,
"Presentation is key" was one of the lessons she learnt from her own mother, and as such Sissi has a meticulous eye for detail and stunning decoration. She is rather stylish in how she presents herself too; she was often spotted cooking in stilettos and Gucci suits!
Gregory's Bio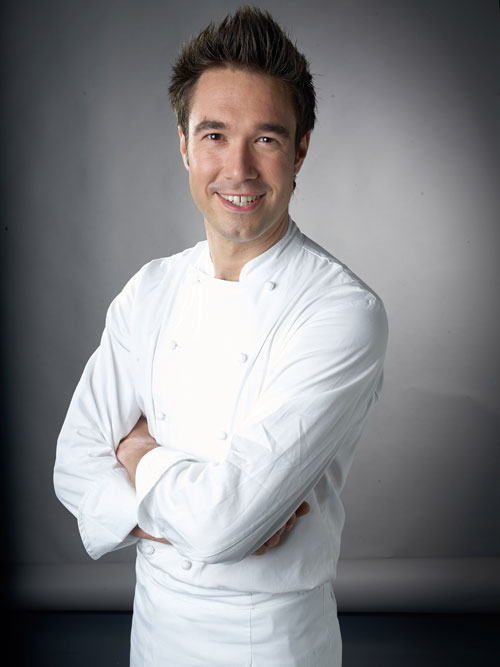 Having trained under Marcus Wareing at the Savoy Grill in London and Gordon Ramsay in New York, Gregory is also the Executive Chef running the back of house side of large events and managing the team of chefs. Through his culinary experience around the world, Gregory has learned how to create elegant dishes that reveal new flavours with every mouthful. He also finds inspiration from the palates of his clients and composes bespoke menus tailored to their preferences.
Always mindful of sustainability, Gregory and his team of highly trained Chefs endeavour to use locally sourced, organic, free-range and seasonal produce whenever possible and over the years he has built strong relationships with trusted suppliers and artisanal producers, thus ensuring the quality and provenance of the company's food.
Gregory is regularly in demand as a Food & Beverage consultant by a number of global hotel and restaurant chains, and also appeared as the resident chef on Swiss cooking television show "Al Dente" for 5 years. Since 2020 Gregory has been providing unique virtual cooking experiences for corporate and private events. These and his consultancy services can be booked via his personal brand website: www.gregorysj.com. You can learn more about him in the #EventProInterview.
---
Victoria's Bio
Just like her brother and mother, Victoria has an innate affinity to organising wonderful parties. Having studied Mathematics she went on to work in finance, eventually finding that her true vocation lay in events. She trained and gained invaluable experience in the D&D London Hospitality group becoming their Sales & Events manager at the magnificent Royal Exchange in the City of London's Bank.
Through her meticulous organisational abilities and with a keen eye for the finer details, Victoria plans all the elements in the run up to events to ensure that they come together just as our clients want them to.
She brings a sense of calm and a personalised approach to the event planning in order to fully understand each client's vision. This ensures that the right atmosphere can be created and most importantly, so that the client can relax and be present with their guests.
Together with her team of trained, talented and friendly Front of House staff, Victoria creates edible memories and stories to last a lifetime.
Sissi's cuisine is globally influenced with a central European flair. The menus range from classic French, traditional Austrian, light Mediterranean, exotic South American to exciting Asian dishes. These have been customized into canapé or bowl food, multi-course dinners, lunches & buffets. We will adapt dishes to most dietary restrictions and always source the healthiest and highest quality ingredients.
Our Team
Sissi's team is comprised of creative event planners, world-class butlers, and creative chefs, who pride themselves on their ability to make any event a success by delivering consistently high standards of food. The whole team provides a discreet and professional service with flexibility and a meticulous eye for detail. The team won 12 Gold Stars between 2013 and 2019 at the Guild of Fine Food's Great Taste Awards for their desserts and select signature main courses. They have also built an excellent reputation, entirely by word of mouth, and have many loyal clients due to the personal touch they add to every party.